Welcome to NHS Community Services
We are a group of GP's based in Yorkshire. We have a variety of experience from UK and Europe. Our patients are at the heart of everything we do. By providing community based healthcare services at home, and closer to home, we give the people we care for greater personal control and choice, helping them to stay independent longer. Our vision is to lead out of hospital healthcare and our mission is to provide local care for local people in local surroundings.
Innovation is the key to modern NHS Services and at NHS Community Services we strive hard by bringing global initiatives to the forefront of delivery of NHS services in the community.
Think about your journey in a traditional pattern: hospital appointments then you see receive an appointment in the middle of your work day or during your holiday.
Or you aim to attend with some difficulty – take a day off annual leave in today's climate or flexible leave with blessings of your boss, visit the distant hospital and struggle to get parking, find one and all day parking… Read More »
Friends and Family Survey Results at 100%!

We conducted a recent survey amongst friends and family of our patients and we are delighted to report 100% satisfaction result in the survey. A few comments made included, "Excellent fast service", "feels like Private treatment with the NHS", "relaxed atmosphere". If you wish to learn more about our survey, click on the following link – Survey Results »
Patient Participation Group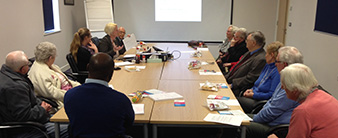 To ensure we meet patient needs, we actively seek feedback and respond to it by changing the way we work. This approach is also used when dealing with individual patients. Our treatment is always based on their unique case and patients are treated with dignity, kindness, compassion, courtesy, respect, understanding and honesty.
Ljubljana University - Slovenia
Professor Vijay Kumar invited to speak at the department of family practice at Ljubljana University in Slovenia (EU) on achieving higher standards in Healthcare Delivery – February 2016